South Atlantic Region Damage Prevention of October
Monday, November 30th 2020
USIC TECHNICIAN SAVES MAN FROM BURNING HOUSE
Show
Birmingham, AL Technician Keena Dowdell was performing a locate when he heard screams and ran to help. A nearby house was on fire, and the elderly, disabled man inside could not get out of the window or to his phone to call for help. Keena got his shovel and broke the window but could not loosen the security bar enough to get the man out. He began trying to force the front door open while calling the fire department and finally got through to help the man escape. The man was then taken to the hospital and treated for smoke inhalation. "I just saw the man was in there trapped," Keena described. "The house was on fire. I just tried my best to get him out of there. I feel really good about it. This is the first time I've been in a position to save someone's life like that." Thank you, Keena, for your heroic actions, which saved a life!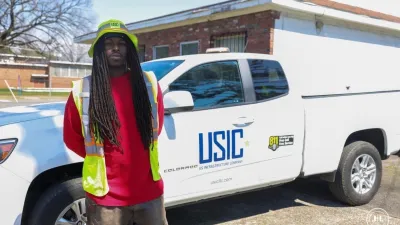 Press
Releases
Show
Apr 13, 2023 - VETS Indexes is excited to announce that USIC has earned the designation VETS Indexes 3-Star Employer in the 2023 VETS Indexes Employer Awards. The award recognizes the organization's commitment to recruiting, hiring,...
Feb 15, 2023 - INDIANAPOLIS--(BUSINESS WIRE)--USIC, the leader in underground infrastructure damage prevention, has announced the appointment of Richard Batelaan as Chief Operating Officer (COO). Richard, who will report directly to...
Careers
at USIC
Show
We are always looking for people who aspire to serve their communities, value quality work, prioritize safety, enjoy solving problems and love being outdoors. If you are a quality conscious, hard-working individual who loves working outdoors, then you should consider a career at USIC!