DigCheck: Save time and money in the field.
TICKET RISK ASSESSMENT (TRA): A second set of eyes to prevent damages and protect lives.
Technology
A key differentiator for USIC
Being the leader in damage prevention, USIC leverages the latest and the greatest technology as a key differentiator for our customers and for our employees. With over 9,000 field technicians performing over 80,000,000 locates a year, USIC provides the best tools and technology to be able to get the job done most efficiently and effectively.
Our Service Stats
30%
Reduction in Damage Rates with Ticket Risk Assessment
550
Terabytes of field data uploaded in 2015
TICKET RISK ASSESSMENT
TRA: The Prediction Engine - USIC can identify the next damage before it occurs by using historical ticket and damage information to identify leading risk factors on a one call ticket. Each one call ticket is scored immediately upon receipt of the ticket, from highest risk to lowest risk. The top 10% highest risk tickets will cause 40-60% of damages to a utility infrastructure. Once a top 10% ticket has been identified, USIC will send a Damage Prevention Technician to audit the locate, and meet with the contractor. Read More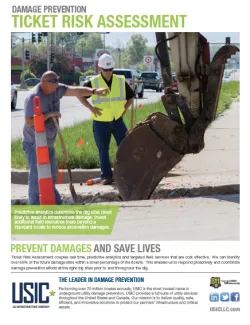 TICKET RISK ASSESSMENT Brochure
Want to know more about TRA? Click to view.
DIGCHECK
DigCheck is intended to give excavators and utility companies the ability to access our internal ticket information from the field. DigCheck provides an "at a glance" view as well as detailed ticket information including locator notes, photos, and completion times. Made for iOS and Android devices.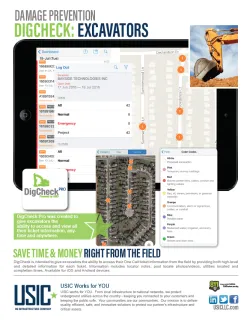 DIGCHECK Brochure
Want to know more about DigCheck Customer Portal? Click to view.
CUSTOMER PORTAL
All of your information is just a few clicks away! USIC, leader in Damage Prevention also delivers world class technology to help our customers interact with their data. The USIC Customer Portal is designed to give customers access to ticket information anytime they need it – on their desktops and mobile devices. Our Portal technology lets you view and search for tickets in few easy steps.