UWUA Local 1-2 LM-2
Tuesday, December 4th 2018
President's Award Recipient
USIC is the proud recipient of the Common Ground Alliance's (CGA) President's Corporate Award of Excellence for 2014. USIC was awarded this honor for contributions to DIRT data as well as an overall dedication to damage prevention at this year's Annual Meeting at the CGA conference.
A Valued Partnership
USIC is a valued Disconnect/Reconnect partner of Ameren Missouri. USIC represents Ameren Missouri professionally and courteously while performing this critical service. USIC's performance consistently meets Ameren Missouri's high safety, quality and efficiency expectations.
- Tommie Gray, Revenue Protection Manager, Ameren Missouri
2018 CGA Gold Sponsorship
USIC is proud to be a Gold Sponsor for this year's CGA Excavation & Safety Expo. For more information please visit www.cgaconference.com.
US Infrastructure Corporation (USIC) Acquires On Target Utility Services
USIC is pleased to announce On Target Utility Services as the newest addition to the USIC family. For USIC, this transaction adds more than 280 technicians and strengthens its ability to service new and existing customers in the Northeast. This partnership further expands USIC's diversification of services with the addition of utility services like metering, storm restoration, telecommunications, smart grid and power line solutions to provide even more support for our customers.
Great Partnership
Working with the team at USIC throughout our RFQ process was the continuation of a great partnership. USIC, not only heard our needs and concerns, they asked the appropriate questions to fully understand where we needed to be in order to award a new contract to them. As a result, we highly recommend USIC as a partner in the protection of underground communications facilities.
- R. Wallace
USIC TECHNICIAN SAVES MAN FROM BURNING HOUSE
Show
Birmingham, AL Technician Keena Dowdell was performing a locate when he heard screams and ran to help. A nearby house was on fire, and the elderly, disabled man inside could not get out of the window or to his phone to call for help. Keena got his shovel and broke the window but could not loosen the security bar enough to get the man out. He began trying to force the front door open while calling the fire department and finally got through to help the man escape. The man was then taken to the hospital and treated for smoke inhalation. "I just saw the man was in there trapped," Keena described. "The house was on fire. I just tried my best to get him out of there. I feel really good about it. This is the first time I've been in a position to save someone's life like that." Thank you, Keena, for your heroic actions, which saved a life!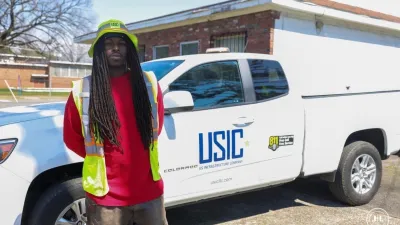 Press
Releases
Show
Apr 13, 2023 - VETS Indexes is excited to announce that USIC has earned the designation VETS Indexes 3-Star Employer in the 2023 VETS Indexes Employer Awards. The award recognizes the organization's commitment to recruiting, hiring,...
Feb 15, 2023 - INDIANAPOLIS--(BUSINESS WIRE)--USIC, the leader in underground infrastructure damage prevention, has announced the appointment of Richard Batelaan as Chief Operating Officer (COO). Richard, who will report directly to...
Careers
at USIC
Show
We are always looking for people who aspire to serve their communities, value quality work, prioritize safety, enjoy solving problems and love being outdoors. If you are a quality conscious, hard-working individual who loves working outdoors, then you should consider a career at USIC!