Play Video
Working at USIC
Quality conscious, hard-working individuals who love working outdoors should consider a career at USIC.
We support our veterans
We are proud to support and hire veterans as we share common values
• Integrity • Teamwork • Leadership • Dedication • Discipline Responsibility • Values • Problem Solving Skills • Safety Focused
USIC Gives Back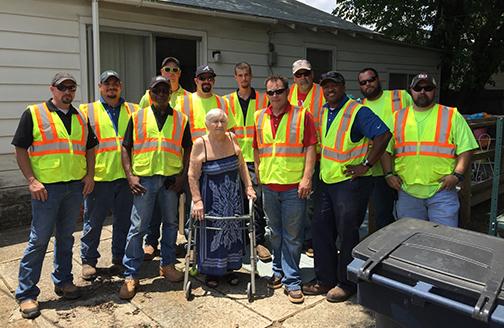 USIC implemented our giving program, "USIC Gives Back", in 2009 which allows our employees to donate to charities through payroll deduction. In 2015 our employees selected St. Jude Children's Research Hospital and the Wounded Warrior Project as the charities for our giving campaign. This was the second year in a row that USIC chose to support these two charities.
In addition to the donations from our employees:
USIC matched 100% of the donation to the charities

USIC contributed an additional 25% to the Employee Disaster Relief Fund

USIC employee and company matching donations make a difference in our communities and within the USIC family
BE AWARE OF RECRUITMENT SCAMS & YOUR RIGHTS UNDER LAW
We have received reports of employment recruitment scams that seek financial commitments/confidential information from job candidates. Unsuspecting job seekers have reported fraudulent contact from individuals purporting to be representatives of USIC. All open USIC positions are listed on our Open Jobs page here. The only methods of viewing and applying for open positions at USIC are our online Open Jobs page and our text-to-apply app (text to 90206). Be wary of solicitations from external parties requesting funds or confidential information.
If you are vision-impaired or have some other disability under the Americans with Disabilities Act or a similar law, and you wish to discuss potential accommodations related to applying for employment at USIC, please contact us at 407-480-5545.

Applicants have rights under Federal Employment Laws.